Optimate 6 12V-24V 2,5A
Safe selection for 12V or 24V battery –

Will not charge if selected voltage does not match battery voltage!

Automatically charge, test and maintain any size 12V or 24V AGM, GEL, EFB or STD starter or deep cycle battery in any temperature –

Voltage adjusted higher when colder, lower when hotter!

Ampmatic charge control adjusts current to match battery size –

Small battery gets less, large battery gets more!

Saves 'dead flat' batteries with 'electronics safe' recovery mode –

User can over-ride voltage protection for 'dead flat' 24V battery.

OptiMate's 24-7 smart inter-active maintenance prevents discharge from connected circuitry & guarantees more battery power, longer battery life!

Available models: All OptiMate battery chargers listed below accept global input of 100-240Vac 50-60Hz, only the power plug TYPE is different to comply with national / regional electrical safety laws.
IDEAL FOR: AGM, GEL & STD 12V (batteries from 3 – 240Ah) | 24V (batteries from 1- 100Ah).
CHARGING AMPS: 5A (Ampmatic current) @ 12V / 2.5A (Ampmatic current) @ 24V
CHARGING VOLTS: 12V selection: nominal: 12V range: 0.5V – 14.4V ; 24V selection: nominal: 24V range: 0.5V – 28.8V
OPERATION: Selectable
Steps: 8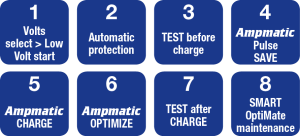 FEATURES: Designed for sensitive electronics: The SAVE program has been designed for SAFE fully automatic low volt start (from 0.5 Volts) and PULSE recovery of deep discharged batteries connected to very sensitive electronics e.g. light aircraft, industrial equipment.
USE: Indoor / Outdoor (lowest temperature: -40°F / -40°C).
INPUT: Global (100-240V 50-60Hz), high efficiency (CEC listed).
STYLE: Weatherproof case with wall mounts, with 6ft / 180cm AC supply lead and 6ft / 180cm charge lead ending in SAE connector.
SAVE : Low Volt Start of 0.5V + 1-step desulphation recovery.
SAFE: No risk of overcharging. Totally safe for vehicle electronics. Sparks suppressed. Safe for long-term battery maintenance. Automatic shut-down if short-circuited or battery disconnected.
INCLUDED: Weatherproof battery lead & battery clip set.
WARRANTY: 3-year limited replacement warranty.